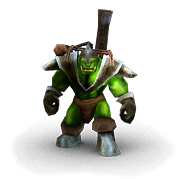 When Orcs Attack...
...They Mean Business! Defend your town from an orcish invasion of epic proportions. Build barricades, towers, summon magic, and even freeze time in a race to thwart the marching orc army before it's too late!
Unique Desktop Tower Defense Gameplay
Strategically place walls and towers anywhere on the map for a unique gameplay experience every time. The unlimited power to stop time (but not reverse it) while placing units makes "When Orcs Attack" a fun challenge for the novice gamer and master tactician alike.
Play Online or Off
The online version of "When Orcs Attack" uses the free Unity Web Player to work its 3D magic in a web browser. Alternatively, you can download a native Windows desktop app for a full-screen, higher definition experience, which doesn't require an Internet connection (except for the initial download, of course).
Try For Free
Would you like to try "When Orcs Attack" for free? Go ahead! Play online, or download the free trial for your PC and enjoy the game for 60 minutes — no strings attached!
play online
or
Download For Windows
(25 MB, Windows XP & Vista)
Buy Now
Ready to buy? Turn the trial Windows desktop version of "When Orcs Attack" into a paid version for just $24.95.
Buy Now